President Obama took a moment when he was attending a NATO summit in Poland to address the execution of five officers in Dallas at a Black Lives Matter protest. He said the officers in Dallas who were killed were "targeted" and added, "We are horrified over these events." He also called the attacks "vicious" and "calculated" but took the opportunity to say that the issue of "these types of weapons" will be considered in the [near] future.
News outlets reporting that a Dallas police detective has confirmed that the shooting suspect in the El Centro College building is "dead." Two "suspicious devices" have been found.
Grabien has footage of the officer down–> Click into post
ABC NEWS: 10 officers shot during protest; 3 are dead, 2 in surgery, 3 in critical condition, Dallas police confirm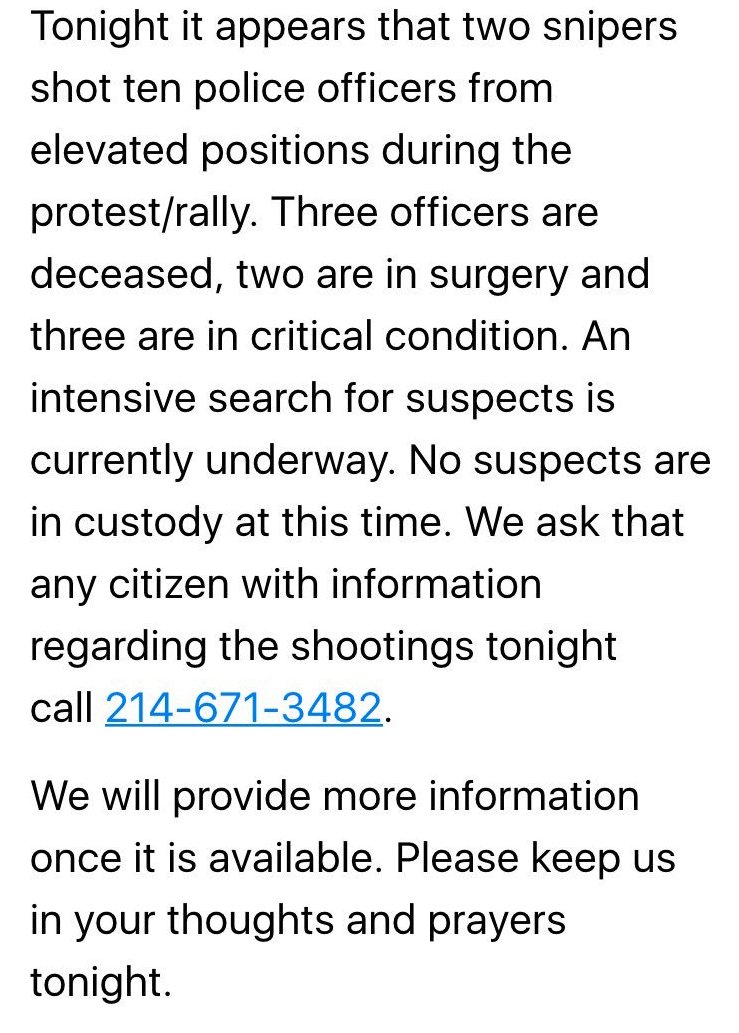 Eyewitness says that the cop was shot from behind with a rifle.
Regated: We've now been informed that two officers have been shot at the Dallas Black Lives Matter protest tonight at 10:00 PM EST. Dallas Police said that there was a shooter with a rifle. Police appear to be focused on a parking garage which may be the location of a possible suspect.
Fox News showed live footage of multiple officers looking as if they were laying on the ground.
Fox News says that a cop just told them that two police officers have been shot. Police scanners are saying that they may think possible a sniper is up in the second floor of a building or garage building.
Sniper rifles are hanging out of a window, a suspect is possibly pinned down according to the police scanner. According to the police scanner, dialogue established with a suspect.  more