Before Tuesday's local election the left was declaring Iron County, WI was being invaded or poisoned by the Koch Brothers when Americans for Prosperity produced a flyer identifying 7 candidates for the county board who were anti-mining.
Today the left is sputtering about mixed results from the Koch Brothers' attempt to block this latest effort by envirowackos to block the opening of a new iron mine in Northern WI.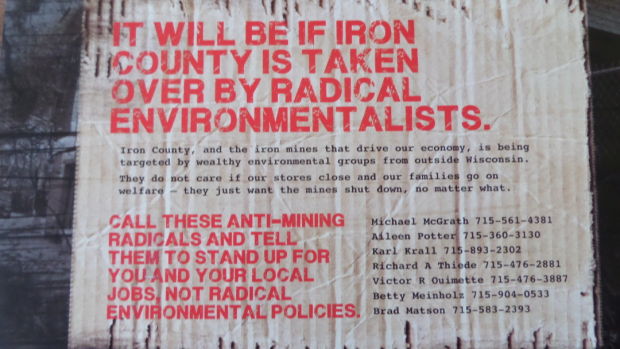 host.madison.com
(above) The flyer created by Americans for Prosperity with the 7 candidates who oppose the mining on the lower right side. 
 Lets go over the election results.  There are 15 seats on the County Board for Iron County.  10 of those sets were up for re-election.  The Kochs identified 7 candidates out of the 10 to oppose. Here is the list of candidates and how they fared in the election .
District Two M. McGrarth  (Lost)
District Six A. Potter  (Lost)
District 8 K. Krall  (Won)
District 10 R. Thiede  (Lost)
District 11 V. Ouimette  (Won)
District 13 B. Meinholtz (Lost)
District 15 B. Matson (Won)
So only 3 mining opponents were added to the Iron County Board of 15.  I'd say the Kochs won this fight.